The Lovely Maiden
The first subject to join your Kingdom, Yvette is an attractive but somewhat naive young woman. Like the stereotypical storybook princess Yvette loves animals and flowers, and is looking for handsome and dashing prince to marry. She is a quest giver and most of her quests make reference to classic fairy tales.
Quote: "add quote here".
Background
Yvette is the youngest of three sisters. Unfortunately, she was separated from her family. Left alone in the woods, Yvette was adopted by a brawny woodsman and a beautiful siren. The couple raised Yvette as their own daughter.
Yvette picked up her musical abilities and love of woodland animals from her adoptive mother and father, respectively. Yvette voice is so immaculate, so perfect, that all forms of animal life flock to hear her song (for better or worse). Each animal brings gifts to show their affection for the lovely maiden.
Yvette was eventually separated from her parents when the murky Gloom swept in and unhappily covered the land. The mysterious cloud took her parents and forced Yvette to flee. She did manage to find a small, safe haven, one of the last remaining Kingdoms in the land.
Official Presentation Video
You can watch Zynga's official presentation video for Yvette here:
http://www.youtube.com/watch?&v=3kJceCBSsIE
Yvette's House

You can collect
300 Coins from Yvette's house every 30 minutes. You will receive a
30 Coins bonus, if the house is located on a Courtyard.




Personality
Likes
Sunshine
Nature
Animals
Singing
Iced Tea
Lavender in the morning's dew
Smiles and laughter
Hunky, shirtless men
Dislikes
Grumpy Gus's
Angry storms
3 a.m.
Depression
Conflict
Tight spaces
Frowns that can't be turned upside down
Monsters that eat all the cute animals
Quest Series
A Gift For Yvette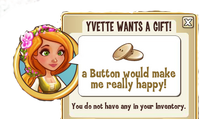 At the end of each quest chain, if you are not yet high enough level to begin the next chain, Yvette will instead ask you for a gift. These requests are not essential to advancing her quest chains, but provide
1,000 Coins. Once you have reached the required level for her next quest chain, the button icon will disappear and be replaced by the blue question mark indicating that she has a quest.
Yvette is known to ask for:
Gallery