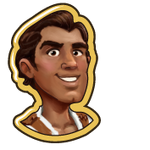 "If we cannot end her captivity in the veil with light, we must lure the lady out. And few can resist my famous hot rock massage!"
"Work the Kinks" is quest 2 of 10 from Rafael during the "Stranger in the Gloom" quest line. You get this mission from Rafael after completing the "Walk to the Light" quest.
Tasks
Have 6 Honey.

Tend Flowers to get Honey.

Have 10 Stones.

Mine Rocks to get stones

Have 1 Rolling Pin.

Ask friends for Rolling Pins. You can also get this from fishing.
Reward
"insert quote here" For completing this mission you will get
500 Coins and

10 XP. You can then procceed to the "Fear and Loathing" quest.