"According to the esteemed Gloomologist Hugh Moore, Silver Arrows are the ideal weapon against Gloom Wolves!"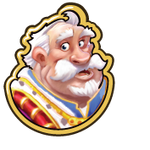 "Wolf's Bane" is quest 4 out of 8 which you get from
The Duke
during the "When Beasties Attack" quest line. It immediately follows the
Here, Beastie Beastie...
quest.
Tasks
Ask Friends for 4 Longbows to help banish Beasties.

Ask Friends for Longbows. You can also get this from fishing.

Craft 5 Silver Arrows, the bane of Gloom Wolves!

Silver Arrows can be crafted in the Beastie Laboratory.

Use 2 Silver Arrows to banish Gloom Wolves.

Go to your Inventory to use the Silver Arrows.
Reward
"This Silver Arrow recipe works like a charm against Gloom Wolves!"
For completing this mission you will get
1,750 Coins and

35 XP, as well as 2 Gloom Wolf Potions . You will also be able to start the Morphing Time quest.