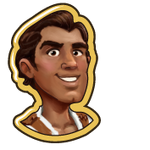 "insert quote here"
"Walk to the Light" is quest 1 of 10 from Rafael during the"Stranger in the Gloom" quest line. It can be accepted after completing the "Good Foundations" quest line (and quest).
Tasks
Have 1 Campfire.

A Campfire can be purchased from the Market in the decorations tab.

Fish 2 times.

Click on ponds to fish

Clear any item in your kingdom.

Click on stumps, dead trees, grass or bushes to clear them
Reward
"insert quote here"
For completing this mission you will get
500 Coins and

4 XP. You can then procceed to the "Work the Kinks" quest.