This page includes an intro and unique info about this beastie. For more info that is relevant to all of the Gloom creatures go to Beasties.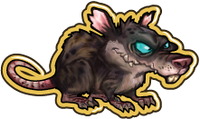 The rat is a creature of the Gloom. While there's a rat on your lands you can't do actions around him (including designing actions). In order to banish a Gloom Rat you need to hit him 3 times, each time costs one energy. Once the rat is gone you can continue do what ever you like, as long as there are no more beasties on your land.
First Encounter
You first meet a Gloom rat when you start the game. Two injured rats are fighting The Duke and Yvette. You are asked to help them by defeating the Gloom rats.
Swamp Rat
The Swamp Rat is a more powerful rat. He is exactly like the Gloom Rat only that it takes 7 hits to banish him. Swamp Rats are rare.
Triggers
A rat might appear when:
Harvesting crops
Clearing grass and rocks
Drops
A Gloom Rat sometimes drops:
An Always Available Rat
In The Duke's kingdom there is always a injured rat which you can defeat when ever you want again and again.