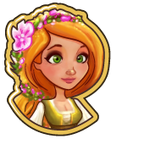 "I'm so excited to join your Kingdom! But, um... could you build me a house so I'll be safe from the Beasties?"
"Raise the Roof" is a tutorial quest.
Tasks
Quest Image
Task
Skip

Find a good location and place Yvette's house.

You can find the plans for Yvette's House in the Buildings tab of your Inventory.

? Crowns

Gather materials to build the house.

Chop trees and mine rocks to gather materials.

? Crowns

Build Yvette's House to add her to your Kingdom.

Once you have enough materials, click the foundation to construct the house.

? Crowns
Reward
For completing this mission you will get 500 Coins and 10 XP.
My new house sure is cozy... and a perfect haven from those Beasties!

X is sheltering the homeless!
X just built a new home for Yvette, their first subject in CastleVille.
Come get some Stone to shelter your royal subjects.