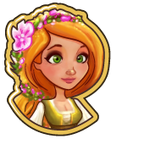 "Think baby Chickens are cute? Wait til you see baby Cows!"
"No Bull" is quest 2 out of 2 in the Talk to the Animals questline.
Tasks
Quest Image
Task
Skip

Buy 2 Cows.

Buy Cows from the Animals section of the Market Nature's tab.

? Crowns

Feed 2 Cows in your Kingdom.

Click on Cows to feed them. They start young, but soon grow!

? Crowns

Spend Reputation Hearts to buy 1 Large Trough for your thirsty animals.

Reputation Hearts can be spent on decorations or potions in the Market. Get more by doing actions in your Neighbors' Kingdoms.

? Crowns
Reward
For completing this mission you will get 500 Coins and 4 XP.
"Keep your Cows fed and happy so they'll grow big. Adults provide more rewards!"

Have you herd the news?
Cows are hoofin' it to X's Kingdom!
Get moo-vin' and grab some Coins before they're udderly gone!
Post reward: 50 Coins.