Kitchen

—Image © Zynga
Information
Sell Price
NaN Coins




The Kitchen is the second Crafting building you are allowed to build in Castleville.
Building this will help you craft certain items to further yourself in the game
Crafting
Build Prerequisites:
Costs:
Cooking has levels.
Lvl 1

upon cooking an item 10 times you receive level 1, this reduces the cooking time by 10%(it stacks with the bonus for having placed a kitchen on path)

lvl 2

upon cooking an item 30 times you receive level 2, this rewards 1 additional point of xp when making the item.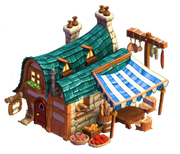 lvl 3

upon cooking an item 100 times you receive level 3, this rewards you with 1 random cooking ingredient used in the process;
level 3 is currently max. even if you are level 3, you still get the reduced time(But it does not show when you go to select the item, only when looking at the remaining time), and the additional xp.