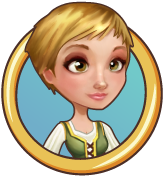 The Fleeing Shepherdess
Kathleen is a shepherdess traveling from Kingdom to Kingdom to visit every pastures and leas. But as she walks,with her sheep, continuing to her travel, she and her sheep were trapped in the Gloom. She is a quest giver, focusing in saving her sheep from the Beasties.
The first set of quests that come from Kathleen are a series of 13 Inn and Out in which you will be able to build the Royal Inn.
Background
Official Presentation Video
Kathleen's House
Personality
Likes
Dislikes
A Gift For Kathleen