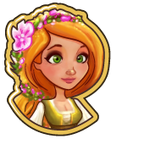 "A Kingdom can never have too many cute chicks! Keep them happy and fed and you'll earn lots of Coins."
"Get Plucky" is quest 1 out of 2 in the Talk to the Animals questline.
Tasks
Quest Image
Task
Skip

Buy 4 Chickens.

Buy Chickens from the Animals section of the Market's Nature tab.

? Crowns

Feed 4 Chickens.

Click on Chickens to feed them. They start young, but soon grow!

? Crowns
Reward
For completing this mission you will get 500 Coins and 4 XP.
"There now, isn't that more fun than collecting taxes?"

X's Kingdom is full of cute chicks!
Stop by and check them out. You might get clucky!
Cluck on over and grab some Coins!