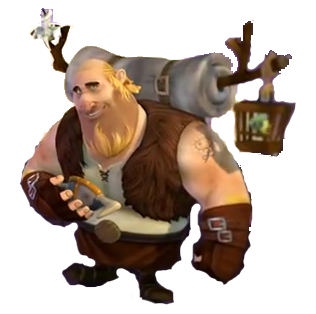 The Friendly Miner
George is a miner that you find frozen in the ice across the bridge to your Kingdom.
Quote: "Add quote here"
Background
George is a former viking who originally comes from a rough village of warriors in the far north seas. He was raised as a warrior and after years of fighting and eating almost nothing but meat, George grew to be one of the strongest men in his village. While plundering a nearby Kingdom, George was separated from the other vikings when a cloud of Gloom settled over the land.
Marooned in a strange land, George was welcomed into a friendly village where he used his great strength as a miner, breaking and carrying massive rocks. George had never known a life in which people worked together in peace and helped one another, but he instantly liked it. From that day George exchanged his battle axe for a pickaxe and vowed never fight again.
One day, George got a bit carried away in his digging and inadvertently dug his way clear through and entire mountain! George found himself lost in the Gloom on the other side. He then began blindly wandering the Gloom, hoping to find a friendly Kingdom where he can again live in peace helping others.
Official Presentation Video
You can watch Zynga's official presentation video for George here:
http://www.youtube.com/watch?&v=QIgDWjbFQsE
This video also presents the character Sonja.
You can also watch this video about George and his pet rock Skippy:
http://www.youtube.com/watch?v=R53Yj1aSRgI
George's House

You can collect
 ?? Coins from George's house every ?? minutes. You will receive a
 ?? Coins bonus, if the house is located on a Courtyard.




Personality
Likes
His trusted canary. He always names them Jack.
His pet rock, Skippy (Skippy is really good at sit and stay).
Bright, long-burning candles – it can get dark in those mines!
A good leg of mutton. Or chicken. Or turkey – any animal, really.
Flowers – daffodils are his favorite – but don't tell anyone!
Dislikes
Weapons or violence of any kind.
Eating his vegetables, especially broccoli.
Taking a cold bath – it reminds him of the dangerous northern seas.
The darkness of the Gloom – even his brightest candles can't light that stuff!
Long boat rides. He was the only Viking that ever got seasick.
Quest Series
A Gift For George