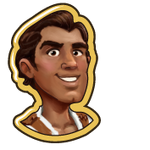 "Hmmm, if my Hot Rock Massage wouldn't draw her out, the lady may fear Senor Shadow's Beasties in the kingdom. Have at them!"
"Fear and Loathing" is quest 3 of 10 from Rafael during the Stranger in the Gloom quest line. It can be accepted after completing the "Work the Kinks" quest.
Tasks
Consume a Gloom Rat potion.

Find a free Gloom Rat potion in your inventory, otherwise purchase from the Market

Have 2 animal bones.

Clobber Beasties, collect from the Crypt or tend Gloom Experiments to get animal bones

Clobber 1 Beastie in a Neighbour's Kingdom.

Click on a Beastie in a Neighbour's Kingdom to banish it
Reward
"insert quote here" For completing this mission you will get
750 Coins and

15 XP. You can then procceed to the "Woo Who" quest.