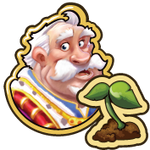 "Taking on the Dark One's Beasties and his Gloom will make you want to eat. Trust me, I know a lot about that! Planting crops would be a good start."
"Cropping Up" is quest 1 out of 3 in the Farming 101 quest line.
Tasks
Quest Image
Task
Skip

Plant 3 Grapes on the Farm Plots.

Click a Farm Plot to plant crops.

Harvest 3 Grapes.

Crops ripen over time. When they're ready, click the crops to harvest them.

9 Crowns
Reward
For completing this mission you will get 250 Coins and 3 XP.
"These Grapes make a great drink, and they provide Coins, too. Let's grow some more!"

Good things are cropping up in X's Kingdom!
X is planting a mini vineyard in CastleVille!
Grab some free Grapes while they're fresh!