"Those Thieves are much more friendly now that they're Chickens. The only downside is the additional mouths to feed!"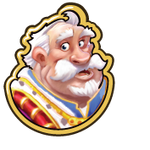 "Clucked Up" is quest 6 out of 8 which you get from
The Duke
during the "When Beasties Attack" quest line. It immediately follows the
Morphing Time
quest.
Tasks
Ask for 6 Chicken Feed.

Ask Friends for Chicken Feed. You can also get this from fishing.

Tend 25 Chickens in your Neighbors' Kingdoms.

Visit nieghbors (sic) by clicking on the Neighbor bar.

Craft 3 Hard Boiled Eggs with all the eggs you are now getting.

Craft Hard Boiled Egg in the Kitchen. You can buy a Kitchen in the Market.
Reward
"Looks like your new Chickens are thriving. Omelettes for everyone!"
For completing this mission you will get
1,000 Coins and

20 XP. You will also be able to start the Secret Ingredient quest.