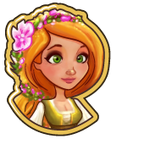 The "Chicken Lover" is a mission you would get from Yvette. You get this mission right after finishing the 14 Carrots mission. This is the 3 mission in Nature Lover from a series of 11 mission.
Tasks
Quest Image
Task
Skip

Feed 4 Chickens

Nothing is sadder than a hungry chicken!

? Crowns

Harvest 16 Flax

Flax takes 30 minutes to grow

? Crowns
Reward
For completing this mission you will get  ?? Coins and  ?? XP.