This page is not finished and needs more work. You are welcome to help finishing it.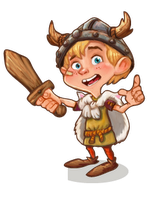 The Future Dragon Hunter
Baz is a child that appears on the reward screen along with George after visiting neighbors but he wasn't actually released until February 29th 2012. In order to unlock Baz and make him a permanent resident of your kingdom you have to complete the questline "The Lamont Swamp" where you have to defeat the evil gloom tree Lamont inside which Baz is trapped.
Background
Official Presentation Video
Baz's House

Baz's house is an inflatable red, blue and yellow bouncy castle with a green dragon attached to it. You can collect 900 coins from the house every 5 hours. If you place Baz's house on courtyard you get an additional bonus of 90 coins when collecting.
Personality
Likes
High fives with George
Fighting the Gloom
Hunting dragons
Dislikes
Quest Series
A Gift For Baz
Gallery