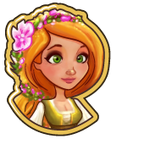 "I was so sure those happy Chickens would vanish the Gloom. We need more life! Lots of cute life!"
"A Bit Bullish" is mission 5 out of 11 in the Nature Lover story line. you get this mission from Yvette after finishing the Bird Feeder mission.
Tasks
Quest Image
Task
Skip

Buy 2 adorable Baby Cows

Go to the Market to purchase cows

? Crowns

Have 20 Wheat to feed your animals

Harvest some Wheat!

? Crowns
Reward
For completing this mission you will get 750 Coins and 15 XP.
"Aww they're so cute! I'm calling that one Gus. How's that for happy?"